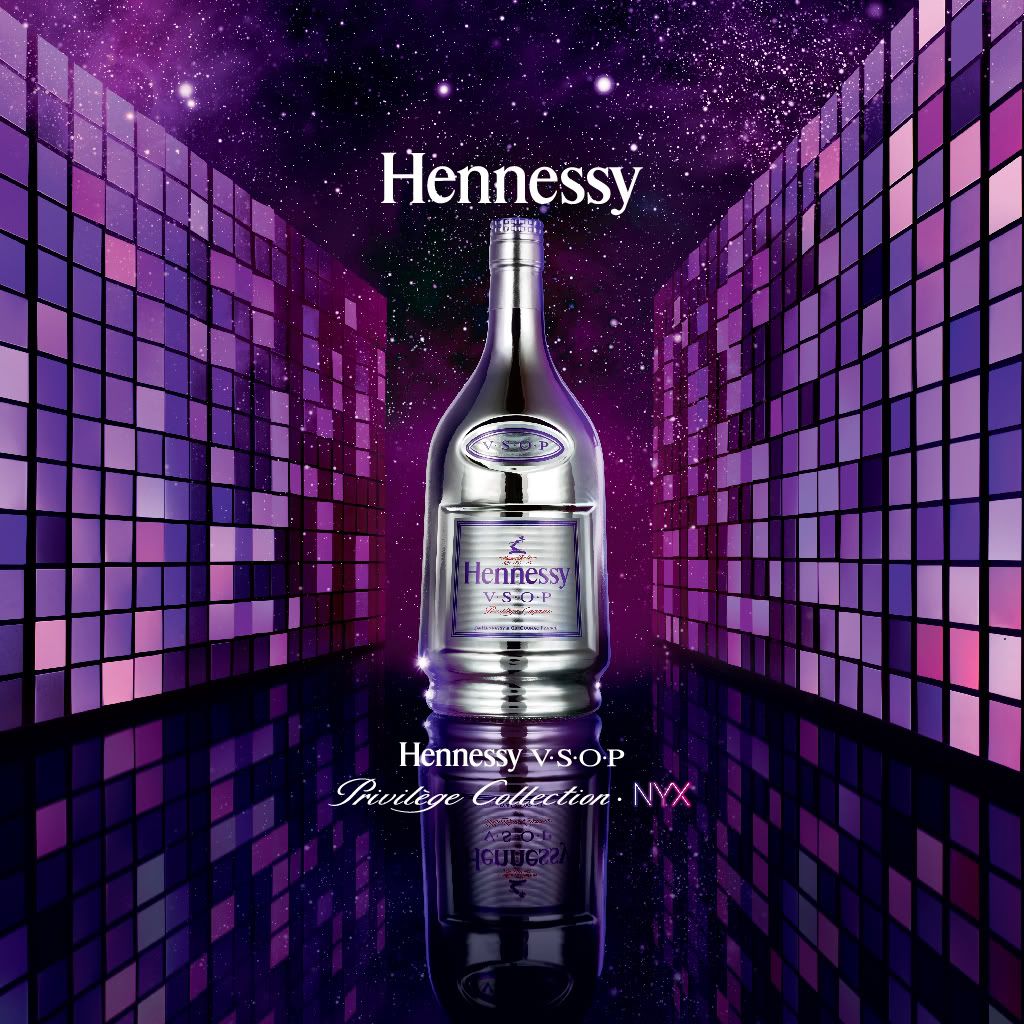 I have dreams that I dare to pursue.
I have friends that I like to treat.
I always seek new emotions.
I have privileges that I feel like sharing.

-Hennessy NYX
This new exceptional collector bottle encapsulates the symbol of roundness and sophistication, their accomplished and timeless Hennessy V.S.O.P blend.
On the nose, the aromas of clove, vanilla and cinnamon are joined by delicate roasted notes resulting from the cognac maturation in oak barrels.
The natural balance of strength and smoothness creates a harmonious blend with a strikingly persistent finish that can only be experienced with the best cognacs.
The Hennessy V.S.O.P blend lends itself to a whole host of tasting combinations – whether simply on the rocks or as a long drink garnished with fine slices of citrus or fresh ginger.
-each platinum bottle with QR code
-ultra violet glow in the dark feature.
-silver
colored
, neon purple lining bottle.
-futuristic and TRON-like look .
The meaning of NYX actually means : Goddess of nights & dreams.
Why? The Hennessy Privilege NYX Collector bottle shows the symbol of Roundness & Sophistication. With its smooth, sophisticated and distinct design, this brand new bottle definitely evokes the imagination and conjures the endless possibilities when exploring the unknown or crafting the perfect night out.
In conjunction of this Hennessy V.S.O.P Privilege Collection NYX Launch, they are giving away the launch party exclusive passes for Hennessy Malaysia FB fans too! Head to Hennessy Malaysia Facebook Page to join the contest and even stand a chance to win the limited edition Hennessy V.S.O.P NyX 70CL Bottle!
You wouldn't wanna miss this opportunity to attend this BRAND NEW Hennessy V.S.O.P Privilege Collection NYX Launch.
How to win the exclusive passes to the launch party? Follow the steps below:


1. Like their fanpage in facebook.


2. Click on the tab "Hennessy NYX" on the left to join the contest.

3. All you need to do is to share the news with friends and ask them to join the 'Illuminate the Night' contest on Hennessy Malaysia FB page as well.
Henessy V.S.O.P NYX
Note:
Also, there will be a Hennessy V.S.O.P NYX Concept Space 'Roadshow' from 2nd – 10th January 2012 happening at East Atrium Entrance, Mid Valley Megamall (In front of Coffee Bean / MPH).
Do drop by the roadshow to find out more info about the brand new Hennessy V.S.O.P NYX. (:
Watch the video below to get to know more about Hennessy V.S.O.P NYX! - introducing the new exceptional collector bottle :
FYI, e
ach of this bottle is numbered and that means these babies are limited edition bottle. Limited bottles available only. So, i would suggest get it now to add in to your Hennessy Collections. ;)